San White Lotus Overview
Everyone craves to own a site of their own but very few gets the opportunity to buy a plot of their choice; others generally end up buying a flat/apartment with regards to the convenience of their work other facilities. As a solution to this San City Developers came up with a new project called San White Lotus in Periyapatna, Mysore. Spread across 59 acres of land offering 225 sites of different dimensions. These sites are priced at 499/- Sqft and are approved by DC/DTCP and several financial institutions. San City was started in the year 2006 and since inception they have been developing residential and commercial properties in Bangalore, Mysore, Chikkaballapur and Coorg whereas, delivering quality on all parameters.
Location
San White Lotus is located in a conveniently place with close proximity to most of the civic amenities. Periyapatna is situated 67 kilometers west from the Mysore city. It is positioned on the Mysore-Mangalore Highway with neighborhood places like Hunsur, Virajpet and HD Kote. This area has a good connectivity via roads and rail. Bus services are easily available and communicable to other parts of the locality within city limits and to its suburbs as well. The nearest railway station, Krishnarajanagara is 42 kilometers run from the locality and the Mysore Junction Railway Station is 66 kilometers drive from Periyapatna. Mysore Airport is located 80 kilometers away via SH-88 from the layout. Periyapatna has some of the prominent educational institutions like Pushpa School, Girls High School, GJCP High School etc. and also Hospitals, Banks and other recreational centers.
Amenities
The residents of San White Lotus will enjoy a wide list of amenities provided by the builder here. Some of these are Metaling Roads, Electricity, Jogging Track, Water Facilities, 24 Hr security and many more. These facilities will help the residents to enjoy and live stress-free life every day.
White Lotus Periyapattana Highlights
Plot ID
PLOT0089
Plot Name
San White Lotus
Total Area
59 Acres
Plot Size
NA
Rate Per Sq Ft
NA
Possesion Date
NA
Plots Location
Periyapattana
Plot Type
Residential Plots
Total No. Plots
225
Budget
NA
Approvals
DC/DTCP
Bank Approvals
NA
Location Map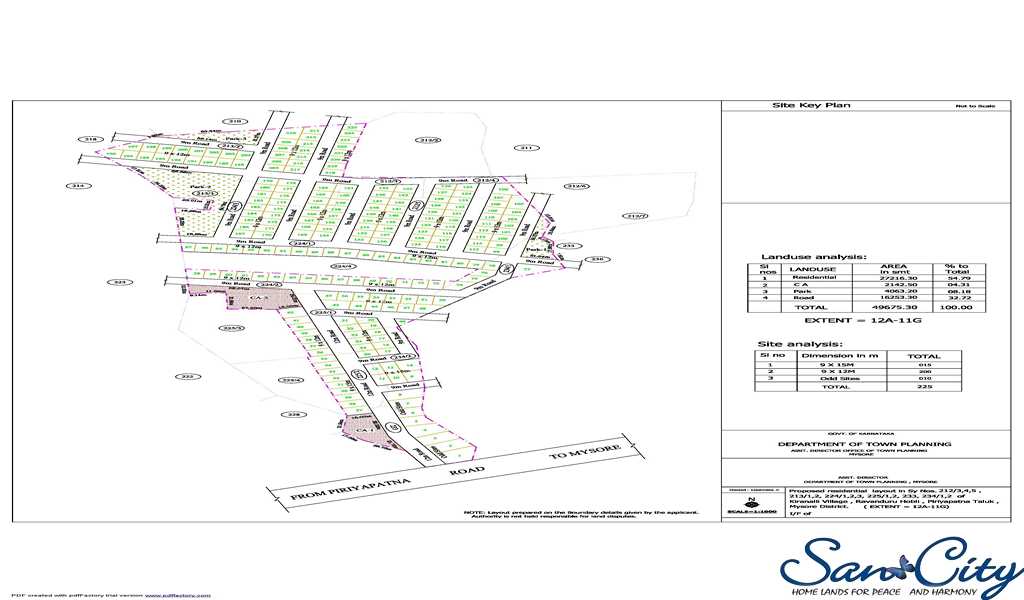 Layout Plan
Just 45 minutes drive from Mysore
Krishnarajanagara – 42 Km
Mysore Junction Railway Station – 66 Km
Mysore Airport – 80 Km
Mysore city – 67 Km
White Lotus Periyapattana Gallery
White Lotus Periyapattana Facilities
Metaling Roads
Electricity
Jogging Track
Water Facilities